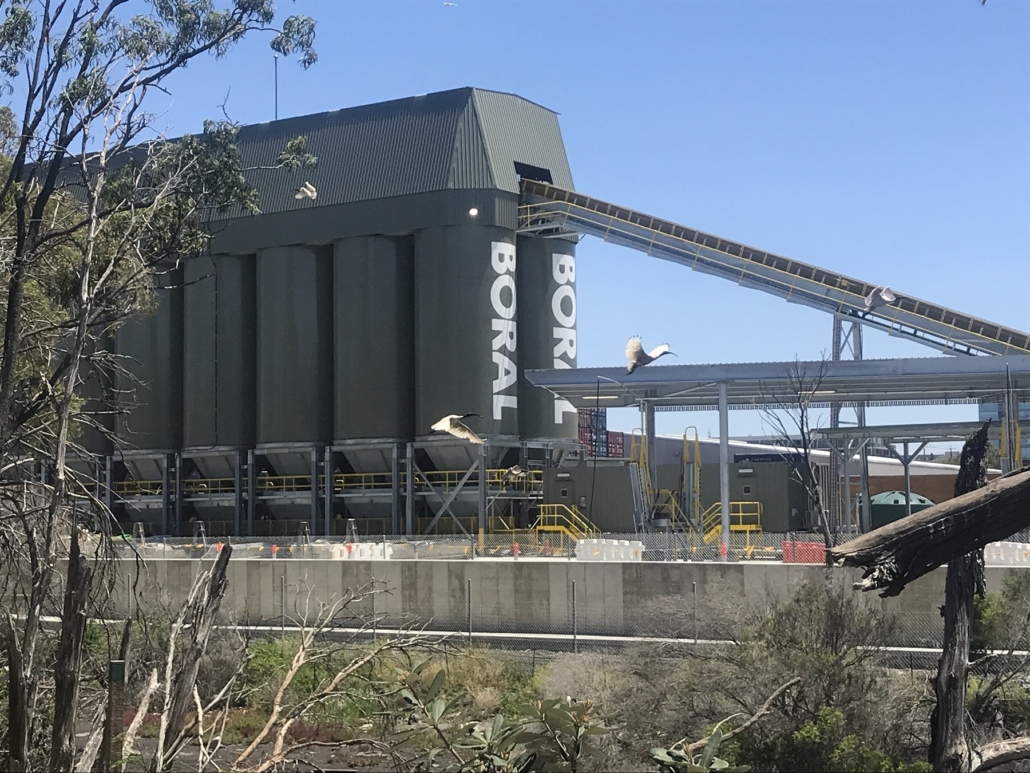 Boral's existing CBD concrete manufacturing facility in Melbourne was compulsorily acquired for the Melbourne Metro Tunnel Project.
As such, Boral chose to build a new high capacity plant in West Melbourne. The location provides excellent site accessibility to road infrastructure and expands Boral's supply radius to 20km.
The new three-acre site has the greatest capacity of any Boral concrete plant in Australia and is expected to produce 120,000m³ of concrete in the first year of operation, with an overall capacity of up to 350,000m³ per annum.
Originally specified as a 'paint over steel' project, Boral switched to hot dip galvanizing due to its superior performance in aggressive environments. Steel structures in concrete manufacturing facilities are exposed to water, aggregate, cementitious binders and additives. Hot dip galvanizing offered Boral an extended time to first maintenance and its performance delivers total life cycle cost benefits to the facility.
The Use of Hot Dip Galvanizing
Over 380 tonnes of steel were used in the construction of the manufacturing plant, approximately 85% of which was hot dip galvanized for a range of applications.
Boral's plant was purpose built with an expected life span of 30 years. The selection of hot dip galvanizing delivered a protective coating manufactured to last for the life of the plant. In comparison, 'paint over steel' offered a shorter life span, which would have contributed to additional costs in scheduled maintenance to retain corrosion protection.
Galvanizing was used in:
The building framework and substructure, as the site sits 1.5m to 2m above the ground with a storm water capture system established under the plant floor.
Silos and hoppers, as well as conveyor systems, cable trays, truck cleaning bays and access systems.
The slump stand; this is where mixer trucks measure the concrete consistency, then add water or additives to achieve the optimal consistency.
The 4.5 tonne grates in the vehicle bays; these grates hold quarry trucks weighing up to 45 tonnes as they release the raw materials (such as rock and sand) into the holding bins beneath the grates.
The concrete manufacturing process requires quarry trucks to dump rocks and sand through galvanized grates into catchment bins. The rocks are separated, transported by conveyor and stored by size; 20mm, 14mm, sand and dust, in silos. As such, Boral's plant also consists of large galvanized storage silos that hold various bulk ingredients (like cement, aggregate and water), mechanisms for the addition of various additives and amendments, machinery to accurately weigh, move, and mix some or all those ingredients, and facilities to dispense the mixed concrete, often to a concrete mixer truck (concrete agitator truck). It is an aggressive environment that requires high performance structures to support the high-capacity demands of a plant with a time sensitive product.
In an environment with large rocks moving through the production process, along with chemicals, additives and water, hot dip galvanizing delivers long term performance. Galvanizing not only prevents corrosion in water prone areas of the plant, it also offers a low maintenance alternative to paint in less corrosive zones of the plant and has greater resilience to chemical residues used during the manufacturing process.
Technical and Engineering Innovation
The West Melbourne site is designed for efficiency. It has the largest capacity of any concrete manufacturing plant in Australia, with 24-hour production capabilities and 16 storage silos.
The site features process flows that maximise production volume, product storage and vehicle filling for high efficiency output. The site architecture flows light vehicles anti-clockwise and heavy vehicles clockwise for more efficient traffic flows across the site. This system combined with a three-lane structure for truck loading and the site configuration enables mixer trucks to be loaded in three minute intervals.
Environmental and Social Responsibility
Several environmental and social initiatives were implemented across the Boral site. Concrete production can create dust and water run-off due to the nature of the products involved in the manufacturing process. As such, all concrete manufacturing sites require mitigation strategies to avoid effecting local neighbourhoods or waterways.
Water is used for two main purposes at a concrete plant: to mix with the dry products to create concrete; and to clean (or 'washout') the concrete equipment. To avoid any contaminated water entering the local storm water system, the site sits 1.5m to 2m off the ground, with a storm water capture system running under the plant.
Choosing galvanized steel for the framework and substructure of the site delivers life cycle cost benefits due to the long-term performance of galvanized steel in wet areas. The site captures and stores approximately 400,000 litres of storm water; 250,000 litres sits in above ground storage, while 50,000 litres are stored below ground. Another 100,000 litres are held throughout the site. This water is filtered to achieve the right pH balance and then used in the concrete manufacturing process.
Industry best practice dictates that water and solids associated with the concrete 'washout' process are collected and retained in holding pits, and then recycled. This way, the caustic material does not reach the soil surface and cannot then migrate to surface waters or into the ground water. In such a corrosive environment, hot dip galvanized steel offers superior performance capabilities for corrosion protection.
PROJECT TEAM
Client: Boral
Architect: P&P Products
Main Contractor: P&P Products
Hot Dip Galvanizer: Kingfield Galvanizing
Steel Fabricator: P&P Products
Steel Manufacturer: OneSteel
Steel Distributor: BlueScope
https://www.kingfield.com.au/wp-content/uploads/2019/02/Boral-Plant.jpg
1350
1800
kingfieldgal
https://www.kingfield.com.au/wp-content/uploads/2018/10/logo_03.png
kingfieldgal
2019-02-08 15:56:17
2019-02-08 15:56:17
Kingfield Wins GAA's 2018 Sorel Award